The words INTEGRITY, PRIDE, COMMITMENT, AND TRADITION are the backbone of the Hermon Fire Department. With its mission to preserve life and property through the suppression of fires both structural and wildland, public fire education, code enforcement, response to hazardous materials incidents, Ice and cold water rescue operations, Emergency Medical First Response and emergency response to all natural and manmade disasters, the Hermon Fire Department is always ready at a moment's notice.
Established in 1949 as a volunteer fire department by Chief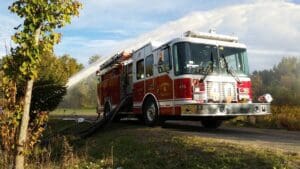 Charles Smith Jr., the mission of the Hermon Fire Department has greatly expanded.
Hermon, a now well established bedroom community to the City of Bangor, and named one of the ten fastest-growing towns in Maine, has a well organized combination Fire Department under the direction of Chief Cody Sullivan. The Department operates with five pieces of fire apparatus, a fulltime Fire Chief, full-time Firefighter/EMT, and 25 paid-call members. The department responds to an average of 300 calls for service annually, providing service to the town's roughly 6,500 citizens.
As a reminder, the Fire Department is a combination department providing day time coverage Monday through Friday 7 am to 5 pm. Someone is not always in the station, especially at night or on the weekends. If you have an emergency please call 911.
Check us out and Like us on Facebook Town of Hermon Fire Department