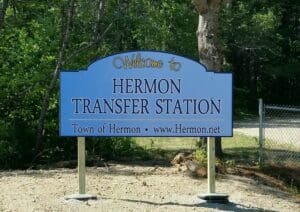 ***CLOSED FOR THE SEASON***
Hermon's Transfer Station has recently been upgraded to a container system that is ecologically and environmentally sound, convenient and safe! The Transfer Station also offers a compost drop-off area for clean leaves and grass.
The transfer station, located at 200 New Boston Road, will open Saturday, April 30, 2022. The operation hours are from noon to dusk every Wednesday and 8 a.m. to 4 pm every Saturday except holiday weekends. For additional information and a fee schedule, please click the link below:
Transfer Station Questions-Answers 2022
Fee Schedule & Permit Cost:
Yearly Permit: $5.00 must be purchased at the Town Office or from transfer station attendant with valid Hermon vehicle registration.
A. White Goods – $20.00 per item except if Freon needs to be removed, an additional $20.00 will be charged per item. 
B.   Scrap Metals – free of charge for small single items (arm full), $30.00 per ½ ton pickup load
C.   Bulky Items – $15.00 per item or $30.00 per ½ ton pickup load*
D.   Demolition Debris – (no shingles) $30.00 per ½ ton pickup load*
E.   Propane Tank – $10.00 per item, only accepted if empty with valve removed
*A PICKUP LOAD IS WHEN THE PICKUP BODY IS FILLED LEVEL TO THE TOP OF THE SIDE WALLS.
THE ATTENDANT ON DUTY WILL DETERMINE THE AMOUNT OF LOADS OR PORTION OF A LOAD BEING DISPOSED OF.
Please take notice:  Bagged household waste must be put out curbside for weekly trash collection.
Disposing of Other Recycled Material
Residents can drop off clean recycling at the Transfer Station.  Material is accepted at 200 New Boston Road, from noon to dusk on Wednesday and 8 am to 4 pm Saturday only. Please see the chart below.